Class B Driver Training Boot Camp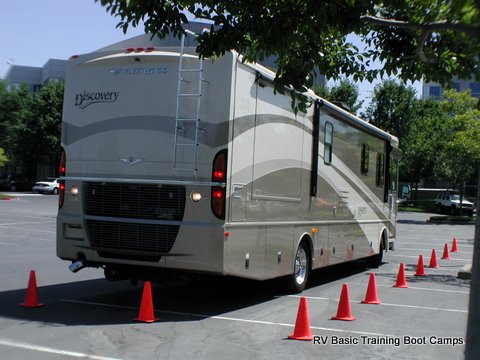 If you've purchased of a 42' or 45' motor home, (housecar) the State of California requires that you obtain a non-commercial Class B license. Driving a motor home over 40' without a non-commercial Class B license is driving out of class, which means you are driving illegally!

To obtain an original non-commercial Class B license, a driver must:
Complete an application for a driver license
Pay the application fee
Submit a Health Questionnaire dated not more than two years prior to the date of your application
Pass the basic Class C law test (unless you qualified for a Class C license within the past 12 months)
Pass the Noncommercial Class B Vehicles test
Pass a vision test
Pass a Pre-Trip Inspection
All applicants for a Class B license are required to demonstrate knowledge of the vehicle they are driving and must express this knowledge to the DMV examiner in a specific order. We show you how to do this in the correct sequence, using the proper verbiage.

Understand an Air Brake Test
Most commercial vehicles and large diesel housecars use Air Brakes to stop. As part of the Pre-trip inspection test for a CDL, a driver must demonstrate knowledge of how an Air Brake system works and how to check it. Non-commercial Class B applicants are not required to pass this portion of the test, but all Class B Driver Training Boot Camp Grads will be proficient in the Air Brake Test.

Pass a Skills Test
The skills test is designed to test how well you can maneuver a vehicle. At Class B Boot Camp Training we will show you:
Forward Stop/Straight Line Backing
Right Turns
Alley Docking
Parallel Parking (Conventional)
Pass a Road Test
When you take Class B Driver Training Boot Camp we work with you to pass your written exam, know how to do your pretrip and we show you how to become proficient in all of the skills required to ace the road test. Class B Driver Training Boot Camp grads do not commit critical driving errors!

Critical Driving Errors
If at any time during the road portion of the exam, the driver commits a critical driving error, the applicant will fail the test.

Critical Driving Errors
Intervention by examiner
Strikes object/curb
Disobeys traffic sign, signal or law
Disobeys safety personnel
Dangerous maneuvers
Speeding
Auxiliary equipment use
Lane violation
We will walk you through every part of the test procedure so you'll know what to expect. We take the worry out of the process and make the Class B license much easier to attain! Call us today at 866-976-7878 to setup your appointment for Class B Driver Training Boot Camp.