Noncommercial Class B (45' Housecar) Endorsement Requirements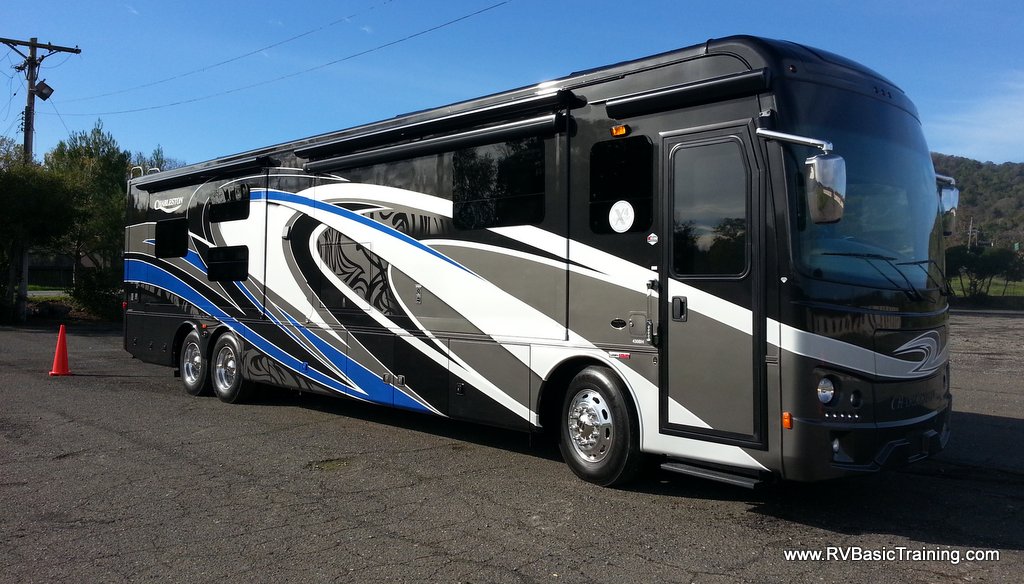 If you live in California and purchase a 42', 43' or 45' motor home, the State requires you to obtain a Housecar license. Driving a MotorHome over 40' without a Housecar license is driving out of class, which is the same as driving without a license!
To obtain an original Housecar license, you must:
Complete an application for a driver license (DL 44)
Pay the application fee
Physician's Health Report (DL 546A) signed by your physician dated not more than two years prior to the date of your application
Pass the basic Class C law test (unless you qualified for a Class C license within the past 12 months)
Pass the Driver's Examination for 45' Housecar test
Pass a vision test
Perform a vehicle safety check (see below)
Pass a skills test
Pass a driving test
Examinations:
Recreational Vehicles and Noncommercial Class A Trailers Law test. You must pass the law test based on the information contained in this booklet. You may take the test at any DMV field office. You may make an appointment online at dmv.ca.gov or by calling 1-800-777-0133, DMV's 24/7 voice recognition service.
Vehicle safety check. The DMV examiner will assist you in checking the proper operation of your vehicle's turn signals, brake lights, horn, emergency flashers, and brake system. Inoperative, missing, or unsafe equipment will result in postponing the driving test.
Skills tests. Skills tests are designed to demonstrate your skill in stopping, backing in a straight line, completing a right turn around a cone or marker, and backing into a camping space. You may make an appointment online at dmv.ca.gov or by calling 1-800-777-0133, DMV's 24/7 voice recognition service.
Driving test. The driving test includes entering and exiting a freeway, freeway driving with lane changes, right and left turns into one-way and two-way traffic, railroad crossings, driving on a grade or steep hill, etc. You may make an appointment by calling 1-800-777-0133. Online appointments are not available for driving tests.
Physician's Health Report. A Physician's Health Report (DL 546A) form signed by your physician is required and must be given to DMV for review and approval before your license is issued and then every two years after that. The Health Report expires two years from the examination date. Failure to maintain a valid Health Report form with DMV will mean that your license is valid only for Class C and, if endorsed, for Class M1 or M2 vehicles. The Health Report forms are available online at dmv.ca.gov.
45' Housecar with Air Brakes
You are not required to pass an air brake law test or to perform an air brake system check if your housecar is equipped with air brakes. You will be asked to perform a Vehicle Safety Check which the DMV examiner will help you.
45' Housecar Endorsement Refusal
If you cannot pass the 45' housecar driving test because of lack of skill you will be denied the 45' housecar endorsement. You may request a hearing if you are denied this endorsement. Ask the DMV employee to send a request to the Driver Safety Actions unit in Sacramento. You will then be sent a letter advising you of your hearing rights.
Pass a Skills Test
Pass a Road Test
Critical Driving Errors

Intervention by examiner
Strikes object/curb
Disobeys traffic sign, signal or law
Disobeys safety personnel
Dangerous maneuvers
Speeding
Auxiliary equipment use
Lane violation
We will walk you through every part of the test procedure so you'll know what to expect. We take the worry out of the process and make the Housecar license much easier to attain! Call us today 866-976-7878 to setup your appointment for Housecar Training Boot Camp.