The RV Headset Safety Advantage!
ERGONOMICALLY FRIENDLY CONTROL
All the right features for on-the-go travels
The versatile Jog Dial and large buttons on the boom mic make it easy to control all the functions and settings of the SPH10—even while you're deep in the throes of playtime or ride time! And the design of the SPH10 allows for a stable and secure fit for almost any active condition.
DO IT ALL WHILE DOING JUST ABOUT ANYTHING
Critical communication and wireless capabilities
Bluetooth 3.0 technology provides the capability to listen to and share music with the use of Bluetooth playback controls and offers Multipoint Bluetooth technology for dual mobile phone usage.
HQ AUDIO PERFORMANCE IN ANY ENVIRONMENT
Extra volume and Advanced Noise Control™ when you need it
The SPH10 produces crystal-clear audio with an automatic boost of volume in noisy environments, while Advanced Noise Control™ technology detects and cuts out background noise. Also, each audio source has its own independent volume level you can adjust for an improved riding experience.
CROSSBRAND INTERCOM COMPATIBILITY
Our gear works with everyone else's gear—guaranteed!
Even if your companions don't have RV Headsets gear, the SPH10 uses the Universal Intercom™ protocol, which allows your gear to work with their gear, regardless of brand.
OPTIMIZED FOR LIFE. SIMPLE TO LEARN
Fully water resistant. Long battery life. Helpful voice prompts
The SPH10 is fully water resistant for use in any condition, and you'll get up to 10 hours of talk time and seven days of stand-by on a single charge. Meanwhile, integrated voice prompts (available in English, French, German, Italian, and Spanish) help you quickly learn your way around the device.
There is no competitive product offering comparable value with all of these features!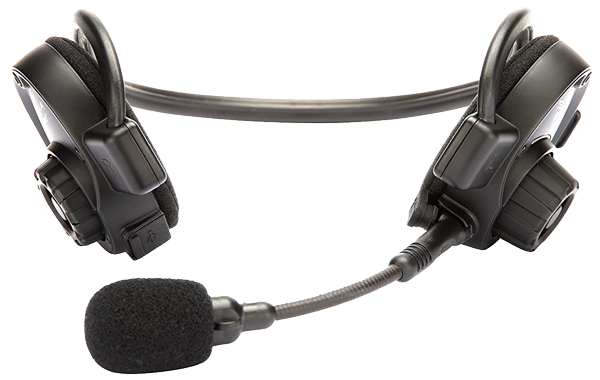 You can see and hear the advantage of the use of headsets during this training when Gary is helping the driver perform this maneuver.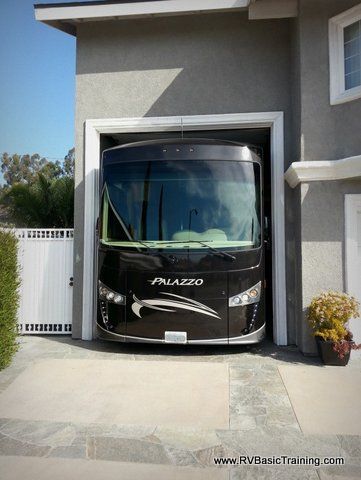 Working with RVer's around the country, one gets to see almost every type of parking space you could possible imagine and recently I saw it all; the tightest RV storage space in the whole world!
This 34' Palazzo found a parking space in what was once a recreation room of this residence. The owner was very thoughtful when making his purchase in choosing an RV that was not too long for his storage space, one that had air-bags so the coach could be lowered upon entry and then ordering RV Headsets so he could have full communication with his partner when bringing the coach in and out of the garage.
Together, with professional training acquired during the RV Basic Training Boot Camp, RV Headsets are the greatest asset any RVer can ever have!
Avoid damage to your RV! Communicate using RV headsets!
RV headsets play an important factor in reducing your risk of having an accident with your motorhome or towing a trailer! 87% of RV damage happens when a driver is maneuvering their RV or Trailer and fails to Get Out And Look (GOAL) or they have a spotter who is not communicating.
Call about special RV Basic Training pricing on RV Headsets!
Order by phone: (951) 852-4785