News
Details
RV Basic Training offers two training manuals for sale here on our website. One manual is for RV DRIVER TRAINING and one is for TRAILER TOWING TRAINING. The training manuals are $30 each plus mailing costs. We use PayPal for payment which means you can use a Credit Card that will only be seen by PayPal.
You can find the manual you want to purchase by using our top menu links or by clicking on the Training Manual pictures on the right hand side of the side. Please fill out the form for the training manual you want to purchase and you will be forwared to Pay Pal to make your payment. You can also call Gary at 951-852-4785 if you do not want to use the form. Thank you
Please click on the Training Manual you want to purchase.
Details

Written by

Gary Lewis
RV Basic Training provides 'Safety Meeting' for your staff and fleet driver training RV Boot Camp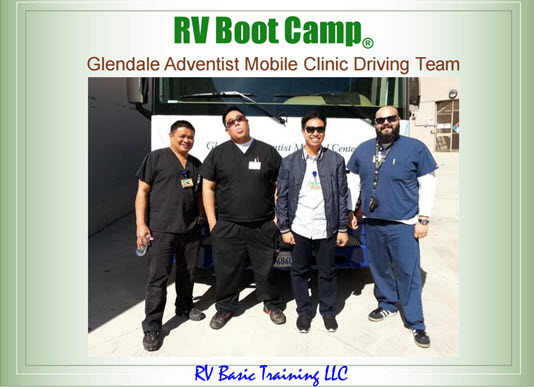 Four drivers trained for Glendale Adventist Mobile Clinic Driving Team.
Details

Written by

Gary Lewis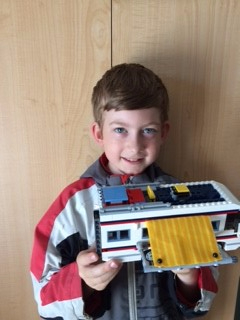 You know how Great Grandparents are; you do the gift giving thing at Christmas time and usually never hear back if the gift even arrived. Well this is a story with a different ending.
Our great grandson Daniel received his fifty dollar bill last year and was carrying it in his coat pocket. Climbing a steep staircase to his friend's house the fifty dollar bill slipped out of his pocket. Fortunately for him, Mom was behind him and caught the bill and when they returned home, she showed it to him and asked how he would like to spend it.
Weeks went by and when Daniel asked his Mom if he could go to Toys R Us she agreed but didn't ask why. On arrival, Daniel bolted to the Lego section of the toy store, sought out a satisfactory kit, 3 in 1 Vacation Getaways set and purchased it with a little help from Mom.
You see Daniel here with his completed RV and now not only is Great Grandpa in the RV business, so is Daniel. Good job Daniel!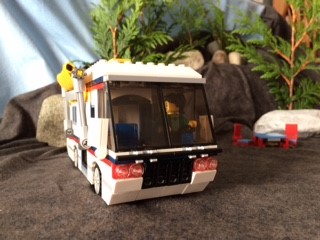 Details

Written by

Gary Lewis
RV Basic Training and Gary Lewis provided Driver Training to reporter Lisa Guerrero of Inside Edition. Check out the video!
RV Basic Training would like to give a big "Thank you!" to Mike Thompson's RV Superstores for providing the RV (Forest River FR3) to use for driver training in this video.