Gary and Cy,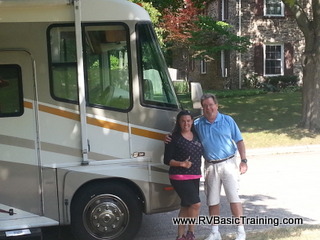 I just came across this email and realized I never told you about what I did with my new RV driving skills. We went on a few local trips within a 4 hour drive from our home. And I did all the drivings and did great.
Then, just the kids and I took 3 weeks and drove all through the northeast. Upstate New York, Vermont, New Hampshire, Maine, Cape Cod (got re-routed through downtown Boston which was a little scary on their narrow roads, but did just fine) and then drove home through the Pocono Mountains. My husband was able to fly out to be with us on the weekends.
I would never have imagined I could do that by myself. I am so excited for the weather to finally warm up here in Michigan because I've already started planning trips for this summer.
One thing I will say is this....if you can send me some of your business cards, I would love to share them with people. I had SOOOO many people ask me, "Did you drive that thing all by yourself?" When I told them that I did, they alwways wanted to know all about how I learned to drive it. I gave them your website, but it would have been so much nicer to have been able to hand them a card or brochure or something. Or even email a flyer to me that I can print out. Is there one on your website?
Thank you again so much. Knowing how to drive our motorhome empowers me!
Karen