News
Details

Written by

Gary Lewis
RV Basic Training and Gary Lewis provided Driver Training to reporter Lisa Guerrero of Inside Edition. Check out the video!
RV Basic Training would like to give a big "Thank you!" to Mike Thompson's RV Superstores for providing the RV (Forest River FR3) to use for driver training in this video.
Details

Written by

Andrea Sachs
Washington Post author Andrea Sachs learns to safely drive an RV with Freddy, an instructor with RV Basic Training. Freddy teaches newbie drivers how to operate their vehicles. One of his most recent students was the author, who rented an RV and had it delivered to a KOA campground in Fredericksburg, Va.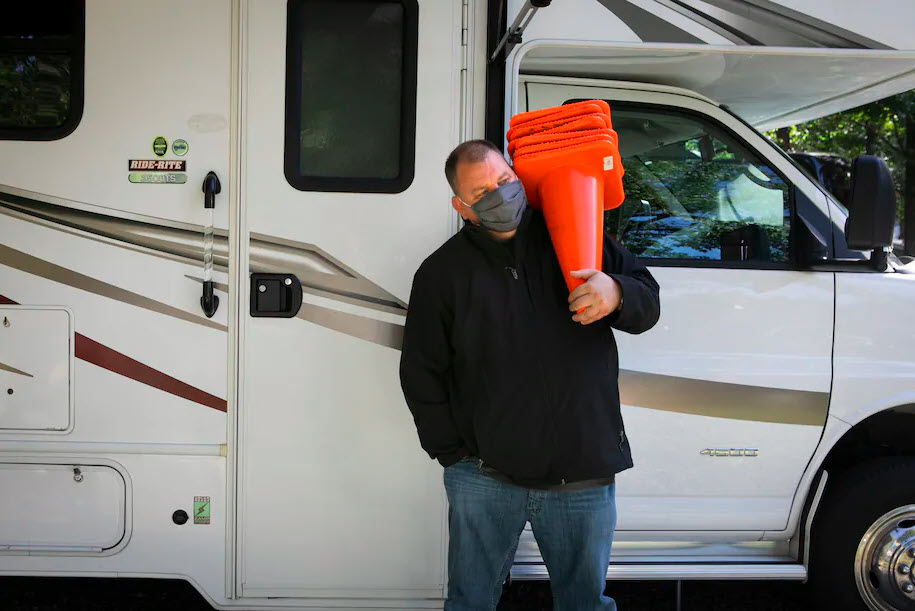 I cleared my throat and made an announcement to my passengers: "I am not going to take any left turns during this entire trip." My RV, my rules. Unfortunately, my proclamation was not well received by my instructor, left turns and all.
"Pull far enough forward," said Freddy Heller, overruling the captain.
I did as I was told. At the stop sign, I checked the traffic on Route 1 in Fredricksburg, Va., and during a break in the flow, eased the 27-foot Lady Skipper into the far lane without clipping a curb or another car. I looked over at Freddy for approval.
"That was fine," he said, before reminding me to keep my eyes on the road.
Seven months into the pandemic, we are no longer surprised by the rise of the RV from niche mode of travel to mainstream. But what shocked me was how easy it was to rent one without any prior experience. When I applied for a pet-sitting gig, I had to present my dog-walking credentials, including resume and references; to reserve an RV, I just had to provide a driver's license and method of payment.
To be honest, if I owned an RV, I wouldn't rent it to me. And yet a couple did just that in July. My RV adventure ended with a refund from Outdoorsy, the online rental site, and a night in a hotel room in Charlottesville. Although I wasn't directly to blame for that debacle — the Winnebago was dirty and unsafe — I should not have accepted the keys when I was as green as a Griswold.
A newbie RV renter learns from her mistakes — and so can you.
When renting, the owner or rental company will typically walk you through the vehicle and accompany you on a short test drive. But a quick spin around the block didn't seem like enough road time for such an elaborate vehicle. So I searched for an RV driving school and landed on RV Basic Training, which offers an "RV Boot Camp" and instructors in nearly a dozen states. The company matched me with Freddy, who is based in Richmond and has taught more than 100 students.
"If you follow everything I teach you," he said, "you will do fine."
Please read the rest of this article by Andrea Sachs at the Washington Post Travel article website. Thank you!
Details
When we train new drivers, the first thing we teach you are the four basic driving skills. In this video we have a new driver doing the #2 drive skill, Off-set backing.
This is a skill that tests a drivers ability to use his/her mirrors and understand where their Pivot Point is when backing. Joe did a GREAT job!
Details

Written by

Gary Lewis
Escape the lock down safely!

Stay safe, maintain your distance from crowds, never stand in line, never breathe other people's air!
In your RV you can go where you want, when you want, and do what you want!

RV-ing is the safest and most relaxing way to travel!

Now more affordable than ever!
Your Safety is Paramount
We will give you the skills to be completely safe driving your RV on the open road
Our instructors will:
Keep the required six feet of distance
Have on their face mask
Use RV Headsets so they can be in constant contact with you when you're behind the wheel, no matter how far away you are
Our instructors will make you a Safe Driver
They will make sure you understand how to use and set your mirrors.
They will make sure you can do the four basic driving skills that every commercial driver knows – You'll drive like the Pro's!
They will show you how to find your Pivot Point in your mirrors, how to keep centered in your lane, and how to use reference points to make turns.
We want you totally comfortable behind the wheel!
Get the confidence and driving comfort that comes with knowing what you're doing.