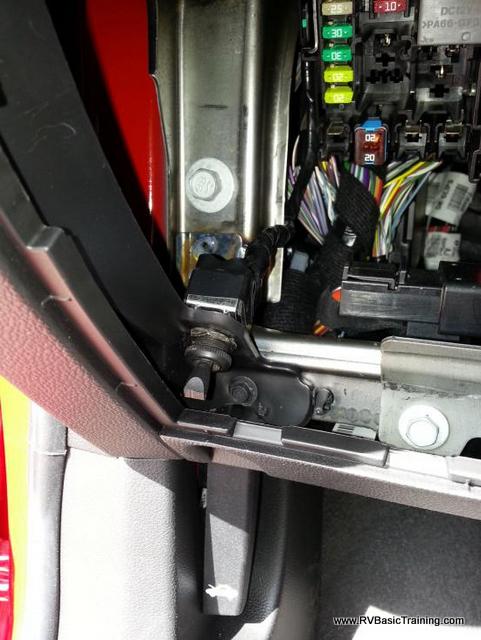 Recently I replaced my '04 PT Cruiser Toad with a new Chevy Sonic and to put it mildly, I can't believe all the technology changes that have taken place in the past ten years!
Before towing the first time I read the recommended procedures:

When you turn the key and put the ignition in the accessory position, it can drain the battery over time. Removing the DLIS fuse, when towing, removes the power to the BCM causing the ignition relay to open which stops the battery from going dead.

So, what is the DLIS fuse and what is the BCM? No one can tell me what DLIS stands for but it does the job of turning the power off to the BCM. The Body Control Module is a generic term for an electronic control unit, responsible for monitoring and controlling various electronic accessories in a vehicle's body. Typically, in a car, the BCM controls the power windows, power mirrors, air conditioning, immobilizer system, central locking, etc. The BCM communicates with other on-board computers via the car's vehicle bus, and its main application is controlling load drivers – actuating relays that in turn perform actions in the vehicle such as locking the doors or dimming the salon overhead lamp.

For other vehicles, the recommendation is to pull the ECM fuse. Again, this is to turn off the various sensors within the car that are sending signals when the car's engine is running.

Now that we know the terms, what does all this mean? Well for me it meant, after pulling the fuse and trying to put it back in without dropping it at night in the dark, frustration! How do I make pulling the fuse an easy operation? The answer was provided by my favorite mechanic, Rod, who installed the Base Plate, wired the lights and wired in a simple ON-OFF switch, (shown in the center of the picture) to disable the DLIS. When preparing to tow, I open the fuse panel and turn the switch OFF. When towing is completed, I turn the switch ON, close the panel and everything is ready to go. Too simple (and thank you Rod)!

Now if the Sonic is as great a vehicle as the PT Cruiser was and can run over 428,000 miles on the original clutch and engine, I'll be a happy man.

Hang-on, now this just in, an email from my Sonic letting me know that no oil change is due at this time, my remaining oil life is 98%, no issues have been found, no actions are required but my right front and left rear tires are both one pound low on air pressure. This is what I call Hi-Tech!