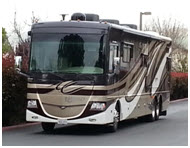 TRIVIA QUIZ
What does a 102" class A motor home, driving on a 12' freeway lane and a Freighter, going through the 120' wide Panama Canal locks have in common?

They each have less than two feet of clearance on either side of their respective vehicles!

When driving a vehicle that is 102" wide, (a Class A motor home) on a road that is 144" wide, (a freeway lane or any new road construction) simple math tells you that if you're perfectly centered in your lane, there will be 21" on each side of your vehicle. Add to this information the fact that your mirrors are allowed by law to be 10 inches away from the side of your vehicle and you can see that it is tight!

The first thing all new Class A motor home drivers experience is a feeling of being too far to the left in their lane. This is because when driving your car, you experience a feeling of space alongside your car as a result of your peripheral vision. When driving your motor home you lose that feeling, so how does a driver go about knowing where they are in the lane. A simple answer, REFERENCE POINTS!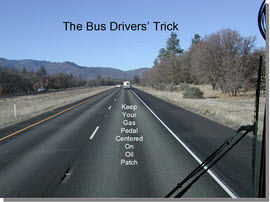 One great reference point is The Bus Drivers' Trick. When looking up the road you will most often see a "dark" patch in the middle of the road. This is known as the "OIL PATCH" The Bus Drivers' Trick has your brain telling you that your foot on the Gas Pedal feels like it is on the middle of the Oil Patch as you look up the road. Really, it's that simple!
Now you can verify your position in the lane by checking your convex mirrors and noting that you have the same amount of room on each side of your vehicle. This is great tip when you get into construction zones and have K-rail on one side of you and barrels or cones on the other.
Keeping centered and using reference points are just some of the Tips you will learn when you take RV Boot Camp. Sign up today!