You never know what you'll find when you do a pre-trip. During a recent training session with a brand new RVer who had purchase a low mileage, used motor home we did the tire check. You remember the drill, I – inflation, C – condition of the tire and D – depth of tread and date of manufacture. First we checked for inflation, all tires were good. Next we checked for the condition of the tires; once again they looked good. Last, but not least we checked the depth of tread and that was more than adequate.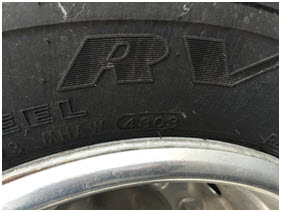 What caught my attention was the Date of Manufacture on the "driver-side" tire, 4603 and on the "passenger-side" 0604. This means the driver-side tire was manufactured the 46th week of 2003 and the passenger-side tire was manufactured the 6th week of 2004. Given that the coach is a 2005 model; it meant the tires were original equipment! Every tire has a box on the side, near the rim with four numbers. The first two numbers are the week of the year the tire was manufactured and the last two numbers are the year the tire was manufactured. Do you know the week and year when your RV tires were manufactured?
It is now the 25th week of 2015, those tire are over 12 years old! Why is this important, tires have a shelf-life of 5 to 6 years on your vehicle.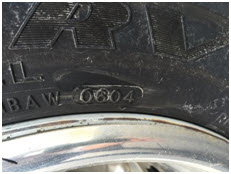 After 6 years you have no guarantee of the safety of that tire and if you're driving in hot weather conditions, you can expect a blow-out!
I am happy to report that Allita went back to the RV dealer and I just received this email from her:
I wanted to let you know what has transpired regarding the tires, as I know you were very concerned about that. I called the Sales Manager and found out that new tires were supposed to have been put on the motorhome before I picked it up.
They work with a tire contractor rather than doing it themselves, and when he got my message he called me right away to assure me they would take care of it. He was very angry on my behalf that it hadn't been caught. So tomorrow on my way from here to my next parking place, I will take the coach in and it will get taken care of. I never would have known without you being here yesterday, and I shudder to think what might have happened. My guardian angels are surely watching over me, and I believe they sent you to me. So God bless you, and thank you again.
Allita now has six new tires, has completed her RV Boot Camp and is ready to begin her RVing adventure across America.