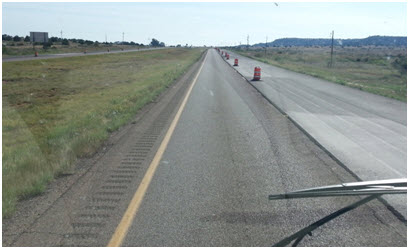 Summer time and the roads they're a paving...
We've all been there when the two lane freeway goes into construction mode.
No shoulder, a precipitous drop-off on one side, barrels or K-rail on the other. What do you do?
The easy way is to use Reference points to keep you centered in your lane and out of Harm's Way. As you can see in the picture above, there is a dark line in the middle of the lane and it's called the Oil Patch.
If you will let your brain tell you when it feels like your foot on the accelerator pedal is over the middle of the oil patch, you will find that you are centered in your lane! This is called the Bus Driver's Trick and it works on any vehicle. Look ahead, concentrate on the oil patch and keep centered, it's that easy. Also, it's always a good idea to slow down in Construction Zones.