SAFE MANEUVERING
All motor homes and mobile clinics have many things in common; they share a long wheelbase, they usually have 12' to 15' behind the back wheels, they are 8' 6" wide and usually at least 12' 6" tall. What all this means is that when a large vehicle driver is maneuvering, they must always be aware of their vehicles' Footprint, making sure the vehicle is clear of any object alongside, in front or behind their vehicle. Up until now, to see around a large vehicle has not been easy.
At last there is a product for large vehicles that will show the "Footprint" of the vehicle to the driver as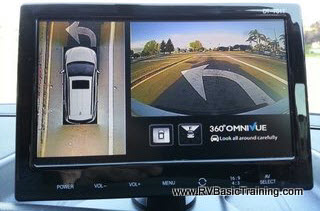 he or she is maneuvering. This is accomplished with four hi-def cameras located in the front, the back and along each side of the vehicle.
From the dash board monitor the driver can see each side of the vehicle, in front of the vehicle and behind the vehicle; all in REAL TIME! The product is called the 360 degree OmniVue Surround View Monitoring System.
Just think of what this means for the safety of your motor home or Mobile Clinic, NO MORE DAMAGE! As the goal for our trainees is ZERO DAMAGE, this is the most exciting product we have ever seen and are proud to announce that it can now be purchased through RV Basic Training LLC. Call or email us today for more information.