RV Driving Tips
Details
This is the time of year when many Snow-Birds head south from Canada to find the California and Arizona sun. It is also the time when many RV drivers are reminded what happens when they forget about "Off-Track" and "Rear Swing out".

When going through a border crossing or entering a Toll Booth, always ensure you are lined up in the center of the lane or your mirrors or other parts of your RV can come in contact with the Toll Booth or Inspection Station. This is because your RV will not bend and if your approach is not Straight-On you will hit something or get caught up on the K-rail.

If you're coming south from British Columbia, our trainer in Washington State would be happy to spend the day with you, getting your RV driving skills honed for the 1300 miles you have ahead.

Purchase our MH Driving Manual
Details

Written by

Gary Lewis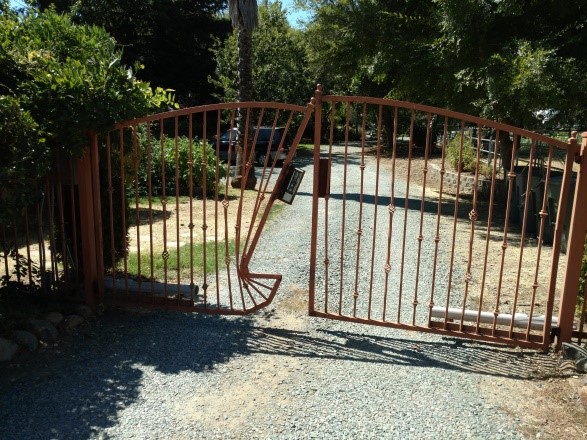 We know from your phone calls and emails that many of the visitors to our website are either new to RVing or are looking to become RVers. Read on First-Time RVers because this is the MOST important tip you will ever receive and one that will keep you out of trouble.
If you've read through our Tips, you may have noticed that there is one cause of damage that we keep coming back to: #1 cause of RV damage is failure to do a Pre-trip inspection, which includes a Safety Check, before moving the unit. For anyone who might have forgotten or did not know, a safety check is a walk around the coach or trailer, in a counter-clockwise direction, so that you are always facing on-coming traffic. You are looking to make sure the steps are retracted, the storage doors are closed, the tires are inflated, all is clear around the vehicle and the departure path is clear.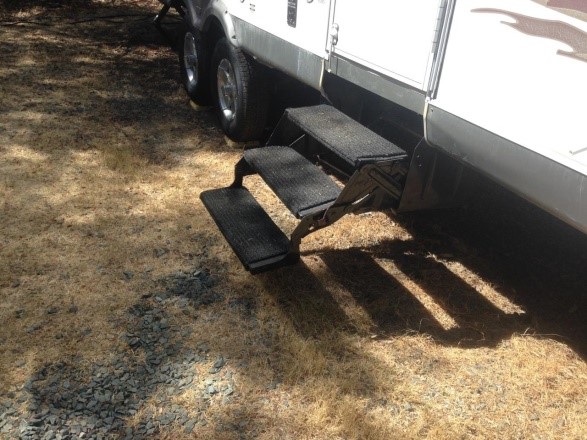 I mention this only because we recently dropped in on my Cousin Jack and as we approached the gate to his property I noticed a strange gash in the gate. We visited for a while and when it was time to go I asked Jack about the damage on the gate? It appears his son-in-law forgot to do a Safety Check on his trailer before leaving and attempted to go through the gate with his trailer steps extended. This is what trailer steps look like after coming in contact with a gate. Amazingly, the steps still go up and down, it's just that now they are at a slight angle. The steps are much stronger than I had ever imagined.
Of all the Tips we can give, doing a thorough Pre-trip is at the top of list because failure to do it is the reason for most RV damage.
Details
Always be "Heads-Up" when using your storage compartments. NEVER store anything on the drivers side of your RV that you might need in an emergency! You DO NOT want to be on the side of the road or freeway trying to dig out tools or other emergency equipment with traffic roaring past you. Anything you might need in an emergency should be stored on the passenger side of your RV.

At this time of year, also be aware of the location of your furnace exhausts.

The driver of this RV forgot the furnace can come on in the winter and opened a compartment door that came in direct contact with the exhaust outlet. He was VERY lucky the only damage was paint discoloration; he could have set his RV on fire!
Details

Written by

Gary Lewis
Our Tip of the Month is aimed at the First-time Diesel Pusher buyer who is purchasing a used vehicle. There are three major expense areas you might encounter when purchasing a used diesel motor home and they are:
1. ENGINE – A diesel engine has a much longer life than a gas engine but you want to make sure the previous owner has been properly maintaining the engine to achieve that longer life. When you purchase a used RV, make sure the engine has had a recent oil change and that the filters, belts and hoses are new, or in good shape. You DO NOT want to inherit someone else's misuse? Remember, a diesel engine has 25 quarts of oil, not 5 and the cost of an oil change that includes belts and hoses can be as high as $750.00! You should not have to begin your relationship with your New-2-You RV spending a pot-load of money!
2. TIRES – The tires on a Bus-type vehicle are MUCH MORE expensive than car tires and while they might look good with some tire paint, the BIG question you need to know is, HOW OLD ARE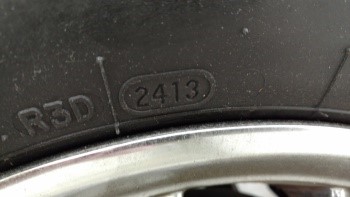 THEY? It's easy to know the age of a tire as every tire is manufactured with a little box on the side of the tire, just above the rim with a four digit code. The first two digits tell you the week the tire was manufactured and the last two digits tell you the year. The tire in this picture was manufactured the 24th week of 2013. Why is this important? Tires after six years are at the end of their life cycle and need to be replaced. You don't want to start your relationship with your new RV buying new rubber that could cost you as much as $680 per tire, installed. Do the math, 6 times $680 equals $4,080.00!
3. AIR SYSTEM - All diesel pushers with Air Brakes have an Air System that must be kept in proper working order. Your RV has a low air warning system that MUST include a visual warning and an audible warning to let you know when your air pressure drops to between 75 lbs and 55 lbs, usually right at 65 lbs. The other part of your Air System you must be aware of is the fact that your Air Pump fills the Air Bags on your RV. If you Air System is NOT working properly and your Air Bags are not filling correctly, you are compromising your safety and could be looking at a LARGE $$$$ repair bill.
Recently we have worked with two RV owners who were unaware of the condition of the engine on their used RV; they had assumed everything was taken care of. Assume nothing, VERIFY! Both RV's had tires at or close to the end of the useful life and none of the new RV owners had any idea what they should be looking at with their Air Systems. All of these items can significantly increase the cost of your RV and compromise your safety and for that reason, they are important.
If you're contemplating the purchase of a used RV, ensuring that the Engine has been serviced, your Tires have lots of time left and your Air System is in good shape will make for trouble-free RVing. You're going Thank us for all the money you save.