I drive a Jeep Wrangler. It is small. It fits about anywhere I want to take it or park it. RV's are big. And scary. And are limited where they will fit, where you can park them, and where you can drive them. Needless to say I WAS scared, maybe even terrified to drive the thing.
A few years back when we started researching our dream to be fulltime RV'ers we attended a Life on Wheels seminar. While eating lunch at table with another couple, I asked the wife if she drove the RV too. "Of course!" was her answer. "Really???" I responded.
That is when the husband chimed in and said that she had attended an "RV driving school" and was better than he at driving and could do things with the RV that he could not. Hmmm.
Now that the RV is sitting in the driveway I figured, I guess it is time for me to go to school. I searched the web and found RV Basic Training and sent off an email to see if I could get scheduled for "Boot Camp". The nice thing about this company is that the trainer comes to you not the other way around. Which is nice if you aren't comfortable driving the RV in the first place.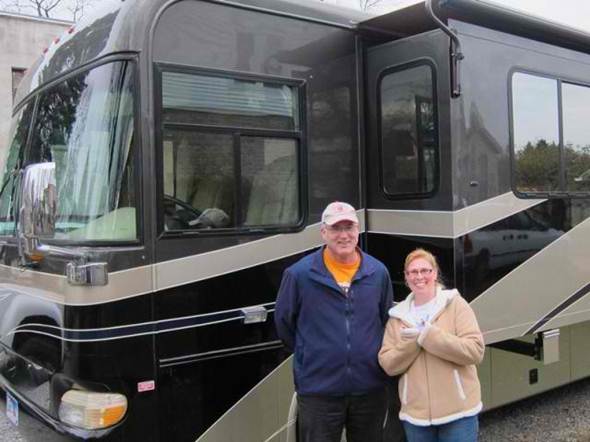 Wendy and instructor Randall – the hat is hiding all the hair he pulled out while teaching me ;)(kidding)
Randal was our instructor and I have to say he is a very calm and patient trainer. He explained everything very clearly before having me do the driving exercises.
We spent the morning in a parking lot while he taught me where my tires are how to center my RV in the roadway, how to back into a campsite, left turns right turns….and get this….how to parallel park the RV. Yeah, parallel park the RV! It was not as hard as I had anticipated. Once he helped me establish reference points, it wasn't bad!
After that it was on to the open road. We started with the highway. By the time we were done with that part, I was comfortable with how the RV drove and handled. We went on and off the ramps and I got better at slowing and stopping smoothly. Then it was time to go home and do some in town driving. That was a little more scary because of all those little cars!. But I managed not to hit anyone, take out any telephone poles or fire hydrants.
With John and Randall's help, I even backed it into our driveway with very little problems. Can't wait to get my certificate of "graduation"! I HIGHLY recommend RV Boot camp!!