Testimonial from Michael and Carol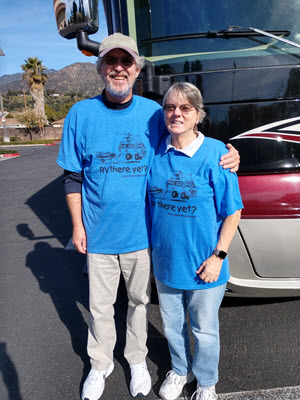 My wife and I took delivery of our new '19 RED 37BA in December; we previously owned a '14 Tiffin Open Road CA32 gas RV and we were comfortable driving the gas rig, but this was our first time with a diesel pusher... So, we scheduled a one day "RV Boot Camp" driver's training course with RV Basic Training, LLC and, we're very glad we did!
We arranged to begin our training at 8:00am with Trainer Gary Lewis at our Bonelli Bluffs RV Park site (our trainer came to us)... Gary immediately made us feel comfortable and gave us an overview of basic RV driving techniques and spent the day preparing us for the same driving skills used for a California Commercial Driver's License (CDL) driving test... This included a thorough RV pre-check routine, proper mirror adjustments, safe driving techniques and practicing basic CDL driving skills...
Days before our scheduled training my wife made it clear to me that she had decided against driving our 40' RV; she felt too frightened... But, Gary made her feel so comfortable that she not only practiced the basic driving skills (backing, weaving backward and forward, 90 degree parking, parallel parking), she actually drove our RV on surface streets around town, making right and left hand turns (maybe even better than my turns)!
Admittedly, even though I thought my RV driving skills were pretty sharp before the training, Gary's instruction and techniques improved my driving knowledge and skills, especially making right and left turns...
If you're new to driving an RV or even if you've driven a Class A RV for years (as I had), I'd recommend taking an RV driver's training course... I know the training helped my wife and me, immensely!