RV Driving Tips
Details

Written by

Gary Lewis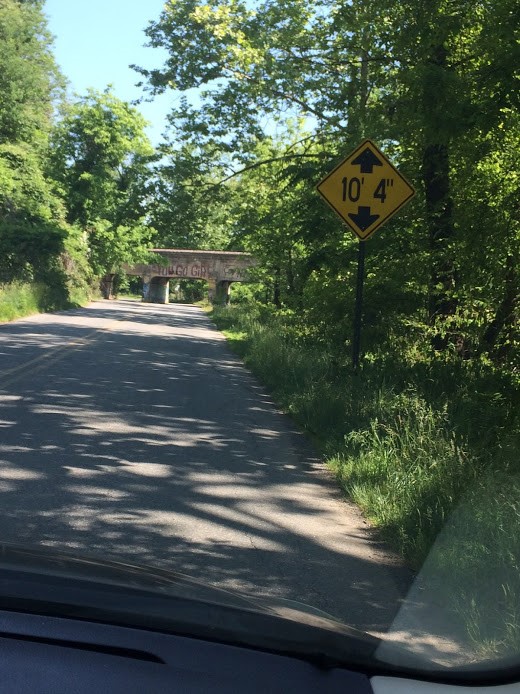 Imagine traveling down a country road in your RV and coming upon this advisory sign, 10 feet, 4 inches overpass ahead!
This is the reason your GPS should be one that is made for RVs! When you consider that all "C" class RV's are 11 feet, without the Air Conditioners and most "A" class RV's are at least 12 feet, 6 inches, you can do a lot of damage if you decide to enter the overpass.
Always pay attention to advisory signs – a yellow triangle that warns you about a low obstacle, a dangerous curve or a steep downgrade and speed limits for your large vehicle.
If the advisory sign says 25 mph and you're driving a large motor home or towing a trailer around a tight turn, chances are you should NOT be going more than 25 mph!
Keep safe, always pay attention and enjoy your RVing journey.
Details

Written by

RV Guy
Most RV accidents happen because the driver is unfamiliar with his coach or does not understand the rules of the road as they apply to large vehicle operation.

Keep Centered
This C-class motor home was riding the center line on a two lane road that was curving to the left. A truck towing a fifth-wheel trailer was coming in the opposite direction, riding the center line.

The C-class caught the fifth-wheel which was pushed sideways into the path of a small station wagon, totally wrecking the wagon, the fifth wheel trailer and the C-class motor home. This accident would never have happened if both drivers had been centered in their lanes.

Beware of Rear Swing-Out
The design of motor homes places a large percentage of the vehicle behind the rear wheels. The driver of this vehicle made a number of mistakes:
He was not aware of the effects of rear swing-out
He was not watching his mirrors
He had not taken the time to assess all of the hazards surrounding his vehicle. Had the driver checked just one of the above, this accident could have been prevented.
Adjust and Watch the Mirrors
When making a turn in your motor home, it is necessary to always be aware of what is along side your coach.
There is only one way you can do this and that is by checking your properly adjusted convex mirrors as you make your turn.
If your mirrors are not properly adjusted, it is only a matter of time until you will hit something.

Leave a Space Cushion, Don't Follow Too Close
At 55 MPH your RV is traveling 64 feet per second.

To stop a vehicle you need to SEE-THINK-DO. Total stopping distance is the distance your vehicle will travel from the moment you SEE a hazard, THINK, decide to stop and DO, place your foot on the brake pedal until you stop. SEE-THINK takes about 3/4 of a second, DO takes another 3/4 of a second and if you have Air Brakes, add another 1/2 second for Air Brake Lag.

Do you understand why it's important to have a space cushion when driving a large vehicle and why you should sign up for RV Boot Camp?
Details

Written by

Gary the RV Guy
Do you know how to set your Mirrors?
We see so many RV mirrors that are totally out of adjustment that I want to review the purpose of the two-part mirror system. Remember, if your mirrors are not set correctly, YOU ARE DRIVING BLIND!
The purpose of the FLAT MIRROR, on top is to see alongside and behind your vehicle up to 200 feet. This is also the mirror you use when you're backing, looking to the furthest point, watching to see if you're moving in or away from your backing line.
The purpose of the CONVEX MIRROR, on the bottom is to see alongside your vehicle and all the way to the back and twelve feet out on both sides. If the convex mirrors are not set so you see all the way to the back of the vehicle and alongside, you will be hitting something because it will be in your Blind Spot!
The purpose of your camera is to open-up the Blind Spot that is directly behind your RV and should be set so you can see what is directly behind you and back to a spot without hitting it.

Convex Mirrors Flat Mirrors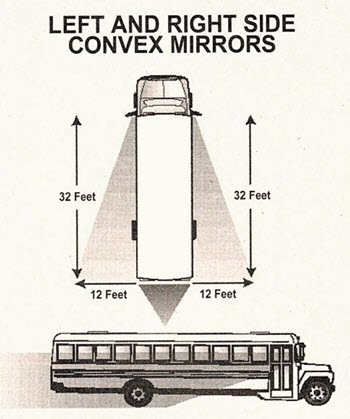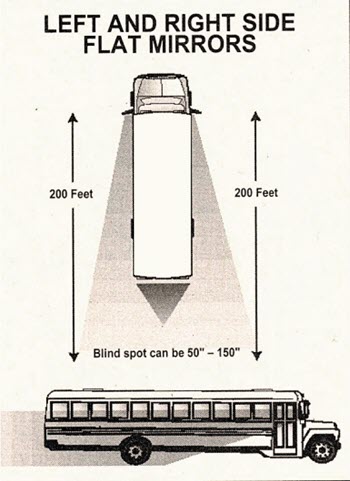 Setting your mirrors is just ONE of many skills you will learn at RV Boot Camp.
Details

Written by

Gary the RV Guy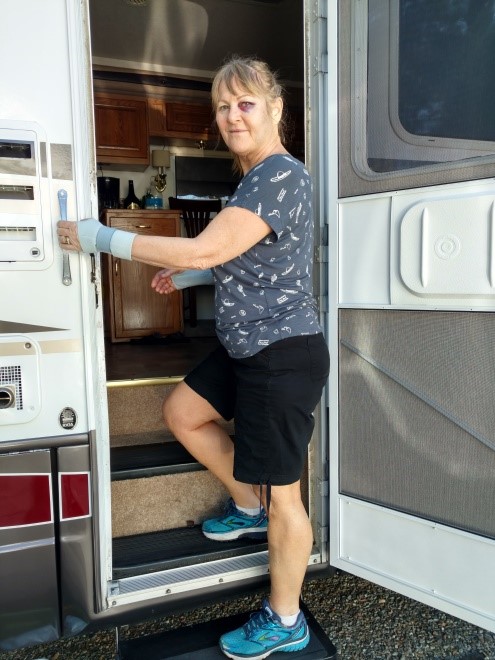 All commercial drivers are advised to always use "Three Points of Contact" when entering or exiting their vehicles.
The reason is to make sure that they will not slip or fall out of the vehicle. I have seen a number of instances where people have fallen out of their RV's or Mobile Clinics as a result of NOT using the Three Point rule, including my sister-in-law just this past week. She tripped on the top stair and fell through the RV screen door onto the cement, landing on her wrists and head. Luckily she was NOT seriously injured and other than two sprained wrists, a black eye and a few bruises she is OK. It could have been MUCH worse!
Last summer, our daughter fractured four ribs while exiting a trailer. The pull-out stairs were in use along with a small plastic stool, placed at the base. With both arms wrapped around a young child, she stepped onto the stool, which rocked, causing her to lose balance and fall back onto the edge of the metal stairs. OUCH!! Six week of her summer vacation spent recovering. The take-away is always have one hand free to help keep your balance.
Please make sure that all visitors to your coach or trailer ALWAYS use the hand rail and are aware of the dangers associated with entering and exiting an RV. Don't let inattention spoil your fun.