RV Driving Tips
Details

Written by

Gary Lewis the RV Guy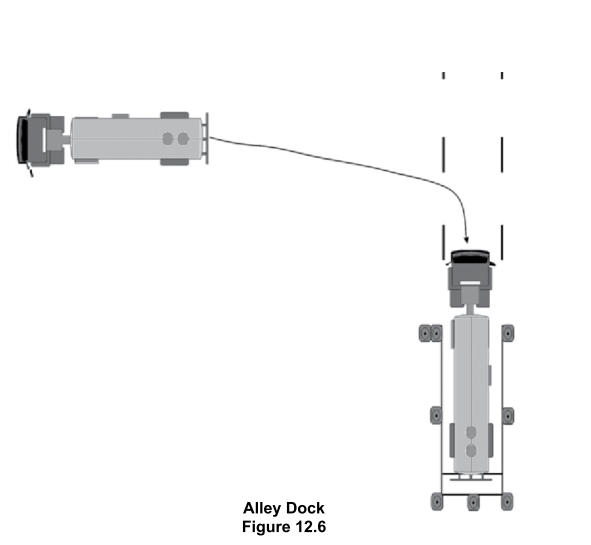 Of the many skills we teach new RV drivers, two of the most important are 'Mirror Use' and 'Pivot Point'. For the non-commercial Class A & B license in California one of the skills you must demonstrate to the examiner is the '90 degree Off-set Alley Dock Backing'. The DMV gives you a 12 foot by 40 foot box that they want you to back your RV or Trailer into from a position that is parallel to a line 50 feet from the opening of the box.
Imagine trying to do this if your mirrors are NOT set correctly or if you do NOT understand the Pivot Point of your RV, IMPOSSIBLE!
We have posted a video of a recent student showing how this backing up skill should be completed.
Details

Written by

Gary Lewis the RV Guy
BEFORE MOVING MY RV:
1. I WILL DO A PRE-TRIP CHECK [Download here]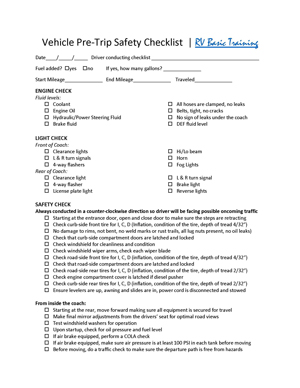 2. I WILL SET MY MIRRORS
3. BEFORE BACKING, I WILL GET OUT AND LOOK!
4. I WILL WATCH FOR OFF-TRACK & TAIL SWING

5. I WILL NOT DRIVE DISTRACTED
Details

Written by

Gary Lewis
Congratulations on the decision to follow your wanderlust under your own steam by traveling in an RV! As you probably already know, this experience can be extremely rewarding and a wonderful way to bond with your partner or family.
You're about to make memories that will last a lifetime, but, before you do, you want to ensure these memories will all be wonderful and free of any hangups or safety concerns.
You wouldn't operate most heavy machinery without some training and practice, and an RV is no different. There are many things that the experts can prepare you for which you may not be aware of.
Knowledge is power, and whether you have purchased an RV or are just renting one for your trip, RVBasicTraining.com is here to empower you for the vacation of your dreams.
Choosing the Right RV
If you haven't secured your rental already, RVShare is a great resource to lead you to the best options for your RV renting needs. It is the largest community driven RV rental website, which means it has the largest selection for you to choose from.
Would be adventurers can choose a peer-to-peer rental from owners in the RVshare community or find an RV rental dealer in their local area to do business with.
Renters make all of their arrangements right through the site and simply pick up their keys when it's time to hit the road, whether the rental is from a community member or a dealer. Refill the gas tank and return the RV when your trip is over- it's really that easy.
Renting through RVshare automatically engages their secure payment protection. Renters also get free roadside assistance with every rental through the site. You're never alone with 24/7 assistance just a call away.
Safety is your Biggest Priority
Once your rental is nailed down, you have to learn how to drive it safely. Trust the experts when we tell you, there are things about driving an RV that you just can't know until it happens.
That's a big part of why we created the RV Basic Training Course. We want to walk you through potential problems and show you how to handle them with confidence.
Driving a vehicle as large as an RV is much different than operating a car. The vehicle responds differently and is engineered differently than a car. Understanding these differences could save a life.
We don't want to sound extreme or alarm our students, but we would be remiss if we downplayed the potential for danger. We find that our students often come in with questions about the very things that are covered in the course, and we want to give you an overview of what you will learn with us in our training.
The size of the vehicle itself is important, and we will educate you on the footprint of your vehicle and how to operate it accordingly. We will also discuss the dangers of attempting to fit the vehicle into spaces it isn't meant for.
This seems simple, but is easy to overlook in the moment. Mirror position, maneuvering in traffic, tail/swing and off/track procedures and more are all covered in our course, as well as pre-trip safety checks to be sure everything is in proper working order.
Braking
Braking in a large vehicle like an RV is a bit of an art, especially if you are towing a vehicle behind you on your trip. We will explain the ins and outs of auxiliary braking devices for towed vehicles so you understand how to operate these systems.
The braking system of the RV itself is often not powerful enough to handle the additional weight of a towed vehicle, and we'll go into some detail explaining that, and the types of auxiliary braking systems available to assist in this regard.
We will cover braking assistance for diesel powered motorhomes as well, which often need such assistance when traveling uneven or steep terrain. These types of braking devices include exhaust brakes, engine brakes, driveline retarders, or transmission brakes or retarders. Don't worry if that sounds like a foreign language to you- that's exactly why we offer the course.
We will also provide an overview of some conditions that may require breaking fast or evasive maneuvers and how it is best to handle that. Slamming on the brakes when driving an RV may seem like a good, instinctual reaction, but it can be dangerous to the stability of the vehicle.
The tips that we provide could literally stand between you and an accident. That is the kind of souvenir you do not want from your trip.
All About Tires
Proper tire maintenance is another essential component to a safe RV trip. We will review the proper procedure and conditions in our course so you understand what to do to avoid problems and what to do if problems arise. This instruction includes an overview of maintaining the proper weight load in the RV, which directly relates to tire pressure.
Fire Safety
The prospect of a fire while on the road in your RV is rightly terrifying, but with a few safety precautions you'll not only be able to avoid most dangerous situations, you'll know what to do in case of an emergency. We recommend you obtain your own fire extinguishers to keep in the RV and any vehicles you are towing behind you.
Understanding Your Vehicle
Each RV is a little bit different, and we will advise you on the proper procedure, quirks and differences that exist. We want you to understand the power your vehicle has, how best to stop it when it's in motion, and what its limitations are.
Other Essential Safety Tips
There is much more to the course than we can discuss here, but we want you to have an idea of what else to expect. We recommend that any passengers along for the ride also learn to operate the vehicle in case of emergency or just to take the load off of the trip's Captain.
We will discuss with you the importance of getting proper rest and listening to your body to avoid fatigue related incidents. We have some knowledge on state RV laws, which do differ from location to location, and we want to share that with you so you are aware of the potential that things can change as you cross state lines.
Insurance Discounts
If saving money on your insurance costs is what brings you in the door, that's ok too! Whatever factors into your decision to learn all that you can about driving an RV is good news to us. There are many insurance providers who encourage temporary drivers or new RV owners to complete a safety course in the same way a similar course can lower the insurance on your family car.
Check with your insurance company to see if you qualify for a discount after completion of our course. We will provide you with whatever materials you need to satisfy their documentation requirements.
More About RV Boot Camp
Every driver and RV is different, and every travel circumstance is as well. Because of this, we have developed several Boot Camp programs to address specific situations and conditions. At RV Basic Training you can choose from courses focused on:
Individual One on One Driver Training
Corporate Driver Training - Safety Training
Mobile Medical Driver Training
Fifth Wheel Driver Training
Trailer Towing Training
Housecar License Training 40+ Feet
Group Driver Training and Special Events
Courses often fill up quickly, so make your arrangements as soon as possible to ensure your spot in the class. We truly look forward to meeting you, educating you, and helping you to have a wonderful trip in your RV.
With a little preparation from us, you'll feel confident and prepared as you embark on your travels across the country.
Sign up for the RV Basic Training Boot Camp
Details

Written by

Gary Lewis

We have had so many calls this year that start off with, "My husband/wife/driving partner just hit a (you name it) and I think we need some training". When you analyze what the problem is, it is SO simple I can't believe it, people try to driver their RV's the same way they drive their cars!
When you take RV Boot Camp training, the first thing you will learn about is the difference between your car and your RV, the RV is MUCH bigger! Most Class A RV's are 8 ½ feet wide, at least 12 ½ feet bus diagramtall, have 18 to 24 feet between the front wheels and the back wheels and have a distance of 12 to 15 feet behind the back wheels, which can create lots of problems for the RV driver when leaving a curb or maneuvering in traffic. Think of your RV's Foot Print.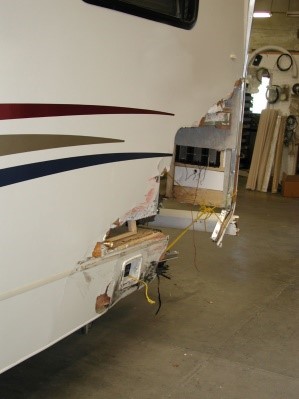 Next we will show you how to do a Pre-Trip inspection, checking the Engine, the Lights and doing a Safety Check. Speaking of the Pre-trip, this past week I had a new driver check the oil on the RV and the dip stick was dry! He had a quart of oil in his car so we added it to the engine and still no reading on the dip stick. It required two more quarts of oil before we had a reading! Other deficiencies on this vehicle included no License plate light, an out of date Tag and clearance lights out, just to name but a few of the items. (Download a FREE Pre-Trip checklist).
To drive a large vehicle safely, the driver MUST have the mirrors set properly and just as important, they need to know how to use them. One in five large vehicle accidents are Mirror Related. We show you what you need to be looking for and how to set the mirrors just for you. There is no "looking over your shoulder" when driving an RV.
When the above are mastered, we teach you how to do the four basic driving skills that every commercial driver in North America MUST be able to do to obtain a CDL. These include straight-line backing, tight turns, RV park backing and parallel parking. When you know how to do the four basic driving skills your comfort level will sky rocket and you will know where your back wheels are and how to make turns safely and with confidence. No more striking objects alongside your RV!
As the result of working with thousands of first-time RVers we have seen that there are five reasons new drivers have problems.
The Driver did NOT do a Pre-Trip inspection before moving their RV
The Driver did NOT check or set their Mirrors before moving their RV
The Driver did NOT understand Tail/Swing or Off/Track
The Driver, when backing did not GOAL (Get Out And Look)
The Driver was Distracted, cell phone use, music too loud etc
When someone tells you that driving an RV is just like driving your car, DON'T BELIEVE THEM, it's just like driving a BUS! The good news, it's easy!!
The damage to the vehicles pictured below is why these drivers needed Boot Camp driver training before they got behind the wheel!