Roger got his License - Great Service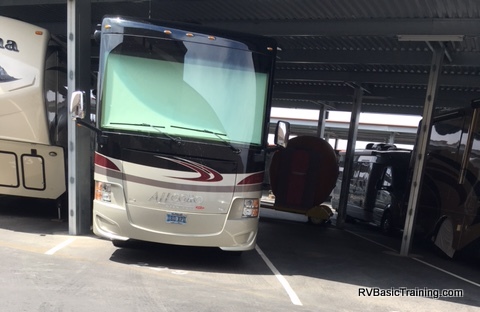 Hi, Gary

I just wanted to show you a picture of how great your student is, he parks our rig dead in the center of our parking space at the storage unit on the first try, every time.
Roger finally got his license, a long trip filled with a comedy of errors!
On his first drive test he flunked because he signaled too early when making a turn in a congested area and stopping too far back from the intersection.
He was scheduled to take the re-test the following Monday and received a call on Friday to say the DMV had shut down the program for up to a month to resurface and mark the testing area! Of course when they did reopen then it was another two weeks before he could sign up to take the test again. We ended up going back east without the license.
We returned 2 months later and had to start this whole thing all over again. This time he passed with flying colors and we headed north to Canada and just got back.
I can't tell you the number of times Roger expressed how glad he was that he had taken your class on these two long trips. His skill level and confidence in driving the rig since taking your class is very evident. Last week when we were in Fresno at the dealership and he was in a tight area with cars coming at him right and left and he backed that rig up and turned it around in a space I didn't think was big enough to turn a car around in! I was very impressed."
Thanks for the great service!
Shirley