RV Driving Tips
Details

Written by

Gary Lewis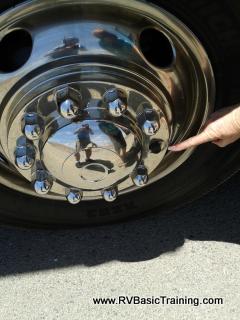 Remember, there are three parts to your Pre-Trip Inspection:
Engine Check
Light Check
Safety Check
To learn more about the Pre-Trip checks and I, C, D, order our Motor Home Training Manual today.
This week I was showing a new RVer all the items they need to check before beginning their journey. As we came around the coach, counter-clockwise, (so we always will be facing possible on-coming traffic) checking the compartment doors and tires, what did we find but a missing wheel-nut on the passenger-side front wheel!
I don't know about you, but I wouldn't' head out on any long journey without having that wheel nut replaced and all of the other wheel-nuts checked for tightness. When it comes to wheels, remember I, C, D.
As a matter of interest, on this particular Pre-Trip inspection we also found that only one of the latches on the refrigerator vent was secure, the other was not connected. If you ever arrive at your destination and the vent cover to your refer is missing, it's because you failed to do your Pre-Trip.
Have a safe and fun-filled RV journey and remember, DO YOUR PRE-TRIP INSPECTION!
Details

Written by

Gary Lewis
This month we review why every large vehicle driver MUST ALWAYS do at the very minimum, a Safety Check before moving.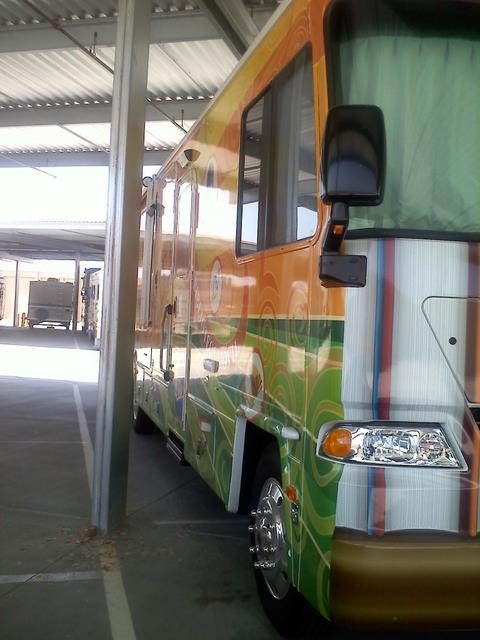 There are three checks every driver should make before beginning any journey. The first is an Engine Check, the second is a Light Check and the third is a Safety Check. This is a walk around your vehicle, checking to make sure everything is ready for travel; tires, compartment doors, mirrors and most important, there is nothing in the departure path that might come in contact with the vehicle.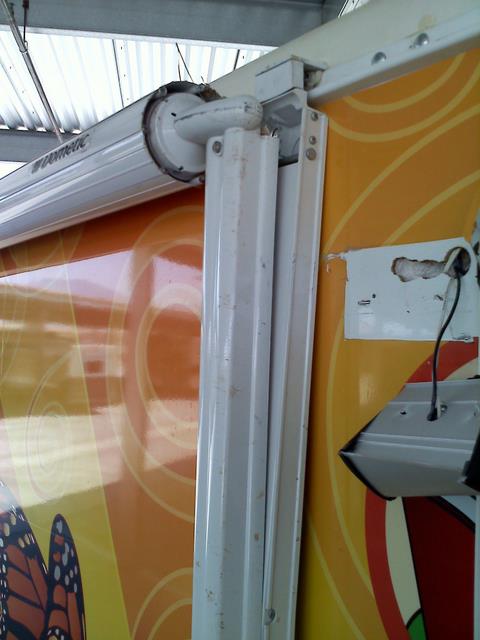 As you can see from this picture, there is a hazard next to this vehicle that the driver must take into consideration when leaving this parking space, it's a steel pole! The vehicle must travel beyond the pole before turning or it can come in contact with the pole!
Now, if the driver had done a Safety Check and kept this hazard in mind or, if the driver had their passenger act as a Spotter to make sure the vehicle was clear of all hazards, it would have been almost impossible to have an accident.
This driver DID NOT do a Safety Check, the passenger was parking their car and this was the result.
NEVER LEAVE YOUR PARKING AREA WITHOUT AT LEAST DOING A SAFETY CHECK!
Details
There is a combination of events that can make your life as an RV driver exciting. Imagine this scenario, you're driving your diesel-pusher motor home to Las Vegas and are climbing up the Baker grade. Its 114 F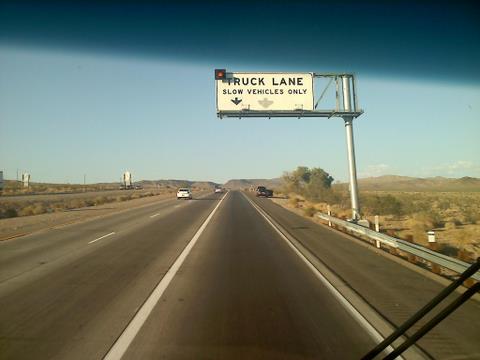 outside and as you start up the grade you notice the engine temperature is rising, what to do?
There is only one thing you can do if you want to keep going; first cancel your cruise control and slow your speed. Next, arrow your transmission to a lower gear until your engine is turning at least 2,000 rpm's. Keep the speed that gives you at least 2,000 rpm's and monitor the temperature gauge until the top of the hill. You'll see your temperature drop.
Once you've crossed over the summit you can return the transmission to D and continue on your journey. The reason Pushers will heat up in high ambient temperatures is the engine has so much power that it can climb a hill in a high gear. This however does not cause the fan to turn fast enough to cool the engine and you have to give the engine a little help by going into a lower gear which will cause your rpm's to rise. I know, it's too simple!
Details
The word 'Toad' in the Motor-Home World means a 'Towed Vehicle'.
This is a story about how easy it to tow a car behind a motor home. Yes, it's so easy, you don't even know the Toad is there, but what if something goes wrong? The lady towing this car took her eyes off I-5 for only a couple of seconds, reaching for a piece of gum which was just enough time for the RV and Toad to slightly move over to the edge of the road and hit 4 or 5 large pot holes she would have avoided, had she been watching the road.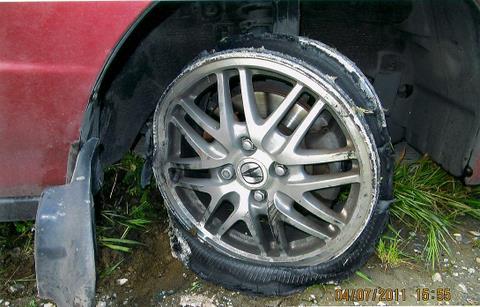 What she did not realize for over ten minutes was that the pot holes had bent the Toads front passenger side wheel, which caused the tire to loose air and disintegrate. Everything seemed the same; the only thing she wondered about was where all that flying rubber had come from. It was when she saw smoke in her rear view mirrors and a car pulled up along side and the passenger motioned wildly to the back of her RV that she thought maybe she had a problem!
When she stopped to get out and look, this is what she saw. A new wheel, a new tire, a little body work and $750 later she was on her way.
What's the moral of this story? First, always keep your eyes on the road, two hands on the wheel and remember the wheel base of the Toad tracks inside the wheelbase of your motor home. Just because you missed the pot holes with the motor home doesn't mean your Toad missed them.
Our tip is to take regular breaks and always perform a Safety Check before resuming your journey. Check tire pressures, compartment doors, lights and the connection between the motor home and the Toad. A Safety Check is the MOST important check you can do before beginning any journey.
Keep Safe and enjoy your travels!