RV Driving Tips
Details

Written by

Gary the RV Guy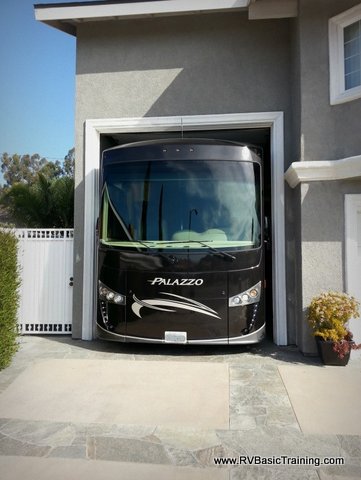 Another reason you NEED RV Headsets!
Working with RVer's around the country, one gets to see almost every type of parking space you could possible imagine and recently I saw it all; the tightest RV storage space in the whole world!
This 34' Palazzo found a parking space in what was once a recreation room of this residence. The owner was very thoughtful when making his purchase in choosing an RV that was not too long for his storage space, one that had air-bags so the coach could be lowered upon entry and then ordering RV Headsets so he could have full communication with his partner when bring the coach in and out of the garage.
RV Headsets are the greatest asset any RVer can ever have!
Details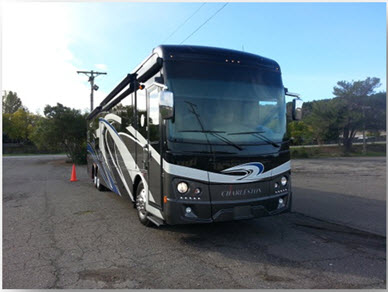 So you've purchased the 43 foot motor home of your dreams and now you find out you are required to get a new driver's license, something called a non-commercial Class B license. To confuse things even more, here in California we call it a Housecar license. What to do? Call RV Basic Training LLC!
In California if your motor home is over 40 feet, you must have a Housecar license. The caveat being that your vehicle is used strictly for recreational and other non-commercial functions. In other States the threshold is the weight of the vehicle, which is any vehicle, or combination of vehicles over 26,000 lbs.
Commercial Driver's Licenses are administered by the Federal Motor Carrier Safety Administration (FMCSA)
FMCSA defines minimum requirements that all states must meet when issuing CDL's States are free to define more stringent CDL rules FMCSA regulations only address commercial motor vehicles (CMV) RV's used strictly for recreational and other non-commercial functions do not meet the FMCSA definition of a CMV
FMCSA defines several CDL classes based on vehicle weight, type, and cargo. While most states do not require a CDL for driving large RV's, some do require special non-commercial licenses structured after the federal classification. The two classes applicable to RV's are A & B, which are defined below:
Class A: Any combination of vehicles with a GVWR of 26,001 or more pounds provided the GVWR of the vehicle(s) being towed is in excess of 10,000 pounds.
Class B: Any single vehicle with a GVWR of 26,001 or more pounds, or any such vehicle towing a vehicle not in excess of 10,000 pounds GVWR.
To find out the requirements in your State for either a motor home or combination truck and trailer. There are a number of commonalities all States share:
You will be required to write a knowledge test
You will be required to demonstrate competency of the four basic driving skills
If Air Brake equipped, you may be required to do an In-Cab Air Check, (COLA check)
You will be required to do a pre-trip inspection
You will be required to do the basic control skills test
You will be required to do a drive test
A failure on the pre-trip or basic control skills will result in you having to repeat the process on another day. You will not get out of the testing lot. Drive Test The major difference between a full Class A or B license and the non-commercial Class A or B is the pre-trip. For a full Class A or B, the pre-trip is VERY detailed and as many as 30% of new commercial drivers don't even leave the test lot.
Once the pre-trip and basic driving skills are completed, it is out on the road to show the examiner that you know how to make right turns, left turns, and lane changes. You will also drive on the freeway and in urban traffic.
Details

Written by

Gary Lewis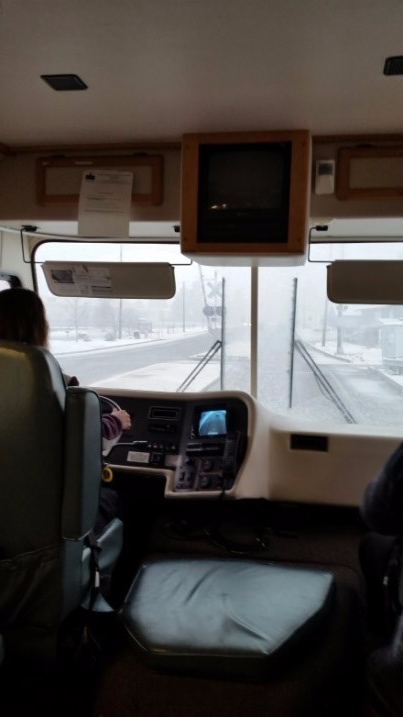 When it rains or snow comes down, it changes how you drive any vehicle, especially a large one.
Often times the weather can be fine when you start out but change for the worse once you are on the road. It is the driver's responsibility to assess the risk of continuing down the road or pulling off the road into a safe place.
The First Thing to Remember: SLOW DOWN IN ADVERSE WEATHER
Large vehicles need to reduce their speed well below posted limits as speed limits are determined by dry roads and daylight hours. Following distance should be increased from 4 seconds to 8 and down shifting can help reduce speed and slow momentum. Stopping distance is increased when traction is decreased. DO NOT use your Engine Brake in poor traction conditions, it can put your vehicle into a spin!
WINTER WEATHER - VISUALIZATION
Snow and ice are the most difficult roadway conditions for a driver. Before starting, mentally go over your route and visualize areas of concern.
Areas of drifting snow

Places exposed to wind where black ice could form

Places where the daylight doesn't reach to warm an icy spot

Bridges, over and under passes which could freeze quickly

Sections where snow could narrow roadway

Approaches to intersections that have been packed down by other vehicles causing them to be more slippery

Knowing the route you will take can help you avoid a potentially dangerous situation. .
HEAVY SNOW AND DRIFTING
The more snow, the less friction your tires will have on the road surface and a greater breaking distance is required.
Keep your windshield, driver's side window and mirrors clear.

Ice/frost and condensation will diminish visibility.

Be sure windshield wipers are in good condition

When snow begins to pile up, drifts on the roads are common. Never plow through a snow drift, always avoid if possible.
LIMITED VISIBILITY -WHITE OUTS
When blowing snow creates limited visibility, reduce your speed as quickly as you can without locking up your wheels.
Activate your hazards and use your low–beam headlights and driving lights. High beams reflect off the snow making it harder to see.

Be patient, avoid changing lanes.

Keep looking as far ahead as possible. Keep your windows and mirrors clean and use defrosters and wipers to maximize your vision.
BLACK ICE
With Black Ice, look for spots on the roadway which are darker than others or have a shine. Use caution on bridges, under and overpasses.
Drive slowly to avoid skidding out of control. A slower speed will give you more time to detect and react to the black ice.

While it may be a natural instinct to slam on your brakes, DON'T. It will only cause your vehicle to lose control.

Reduce speed gradually by tapping on the brakes lightly and down shifting if necessary.

Increase your following distance.
HILLS AND GRAVITY
Just because you have traction going up a snow covered hill doesn't mean you will have it going down.
Do not power up a hill. Applying power to the wheels on snow covered roads will just start the wheels spinning. Apply power before you start up the hill.

Try not to stop when travelling up a snow covered hill. Traction will be hard to find and gravity will pull you down to the bottom of the hill.

As you reach the crest of the hill reduce your speed and proceed down the hill slowly. Downshift before you begin to travel downhill.
SUN GLARE
Glare from the sun can reduce your visibility to near zero.
Remember sun glare changes from season to season.

Sunrise and sunset are different in the winter months.

Visibility can be a problem when the sun is low in the sky and in front of you or reflects off the road or other objects.

Just because you can see doesn't mean the other driver can.

It is crucial to wear sunglasses and use your vehicle's sun visors.
RAIN
Light or infrequent rain may cause unsafe driving conditions. Visibility can be compromised by heavy rain.
With rain comes a change in road conditions. At the beginning of a rainstorm, rain water mixes with oil on the road surface making it slick.

Changes in humidity can cause the windows to fog.

Water reflecting off oncoming headlights can cause momentary blindness.
SLOW DOWN AND KEEP SAFE!
Details

Written by

Gary Lewis the RV Guy

SAFE MANEUVERING
All motor homes and mobile clinics have many things in common; they share a long wheelbase, they usually have 12' to 15' behind the back wheels, they are 8' 6" wide and usually at least 12' 6" tall. What all this means is that when a large vehicle driver is maneuvering, they must always be aware of their vehicles' Footprint, making sure the vehicle is clear of any object alongside, in front or behind their vehicle. Up until now, to see around a large vehicle has not been easy.
At last there is a product for large vehicles that will show the "Footprint" of the vehicle to the driver as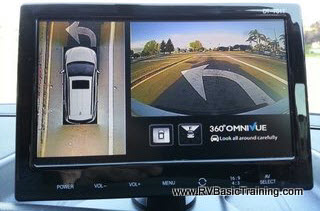 he or she is maneuvering. This is accomplished with four hi-def cameras located in the front, the back and along each side of the vehicle.
From the dash board monitor the driver can see each side of the vehicle, in front of the vehicle and behind the vehicle; all in REAL TIME! The product is called the 360 degree OmniVue Surround View Monitoring System.
Just think of what this means for the safety of your motor home or Mobile Clinic, NO MORE DAMAGE! As the goal for our trainees is ZERO DAMAGE, this is the most exciting product we have ever seen and are proud to announce that it can now be purchased through RV Basic Training LLC. Call or email us today for more information.